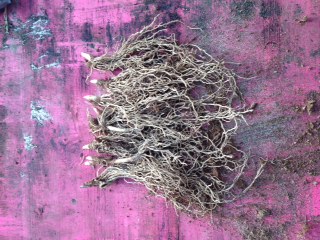 Lily of the valley is easy to force in the greenhouse or the house, or at least this is what I have been told. Despite the fact that I really love the scent of lily of the valley and own a greenhouse, I have somehow never quite got around to forcing my own for pots of scent indoors. This year this will change, and I have just availed myself of 20 'pips': growing tips with attached roots. I am keen to have more spring bulbs in the house, with their happy optimistic scents and innocent pale and pastel-shaded petals. They speak of happy times, they lift the house out of winter a little and tip it towards spring. Most should have been planted in autumn of course, and I do have a couple of pots of Iris reticulata coming on, but there is still time to catch up with lily of the valley, even if you have only just thought of it. Lily of the valley is not a bulb at all, but it will behave in much the same way as a spring bulb: in other words if you pot it up and keep it in a sunny and warm spot such as a greenhouse or a cool sunny windowsill, it will flower far earlier than those that grow in the ground outside.
So this is how it is done. First, order some pips (I bought mine from Thompson & Morgan http://www.thompson-morgan.com/flowers/flower-bulbs-and-tubers/other-flower-bulbs-and-tubers/lily-of-the-valley/p8731TM ). They will have been pre-chilled prior to buying, and so will be ready to start into growth.  You can either plant all of your pips up in one go, or stagger them, planting at three weekly intervals for a succession of blooms. This works particularly well if you are starting them earlier in the winter than this. You can have a succession of blooms all winter long.
When you first receive the pips they should be released from their bundles and soaked in a bucket of water for about an hour, giving them a chance to plump up. Then using a good quality peat-free compost plant five or six pips per pot: they have large root systems so tall thin pots suit them perfectly: a group of terracotta Long Toms would look great. I watered mine in well and then have left them to grow on a little in the greenhouse, but you could bring your first one in straight away. It should flower within three to four weeks of being brought inside. One thing to remember is that lily of the valley likes a lot of water, so keep them really well watered throughout.
If you don't trust yourself to remember to plant the next lot up three weeks later do as I am doing and plant them all up at once. Then leave them in the greenhouse for a week or so before bringing them into the house one at a time. Indoors they don't want to be too warm, and the ideal spot is a sunny cool conservatory or unheated spare room, but if you don't have such a spot then at least make sure they have plenty of light. The extra warmth of indoors will spur them on into growth and flower, while the other pots grow slowly on in the cold greenhouse, waiting for their moment. These are not plants that will live happily in a pot forever, so find a spot in dappled shade in which to plant them, choosing carefully and remembering that they are vigorous and will spread. They are perfect for a problem spot where nothing else will grow. But in the meantime I'll be making use of the greenhouse's shelter and warmth to keep their delicious scents close at hand.